Clothes photo editing is all about removing unwanted stains from the image and removing the image's background to increase the attractiveness of the picture—an important aspect of editing. With the help of Adobe Photoshop, our skilled editors work on this Clothes photo editing.
It is done with the help of various tools in Adobe Photoshop. The use of Clothes photo editing for an online business or any business is very noticeable.
The benefits of Clothes photo editing are immense, especially in making the images that are created to reach the buyers of clothes advertisements online realistic and attractive.
Clothes Photo Editing Service Categories:
Men's Apparel Editing:
In general, Men's Apparel Editing is a much easier subject than all other clothes-photo-editing. It is simple because there are no perfect and small things that can be very troublesome to edit: pants, coats, shirts, T-shirts, blazers, jeans, etc. You do not have to put too much effort into editing Apparel.
We do our clothes-photo-editing work carefully, keeping the attractiveness of your clothes. We also edit the Apparel image to make it more beautiful after removing the background from the clothing image. After taking a picture of a dress, the picture may have many kinds of creases, or the picture's color may be blurred.
We solve these problems in the image and edit the picture perfectly. Therefore, you can avail Men's Apparel Editing services to get the photo background removal of your clothes, color correction of the photo and removal of folded stains, etc.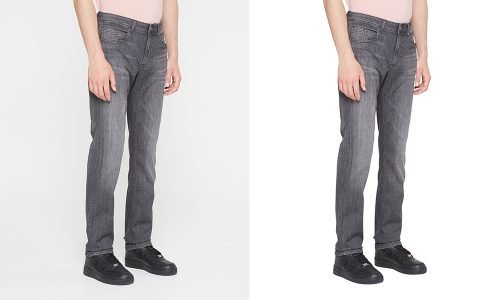 Women's Apparel Editing:
Editing pictures of women's clothing is a lot more complicated. Each of the women's clothes is much larger, and the details are made in different designs. So Women's Apparel Editing is much more complex than Men's Apparel Editing.
To do these tasks of clothes-photo-editing, you need to be very conscious and skilled. If there is a small unnecessary thing in Apparel, it will ruin the beauty of Apparel. Since Women's Apparel Editing contains many minor issues that need to be edited, a skilled person is required to fix them.
Our clothes-photo-editing service gives you some awesome pictures that make any girl's dress pictures interestingly editable. This service removes the background. We also change the colors of various glamorous dresses like wedding gowns, saris to make the colors of these dresses more attractive.

Kids Apparel Editing:
Kids Apparel Editing is a lot easier and has to be done through a variety of color changes. If children's clothing does not look attractive and colorful, it is more likely to not be on the list of people's preferences.
Clothes-photo-editing gives more importance to these issues so that no photo is on the list of dislikes of its customers. To make the image attractive, you must first do the work of background removal. It should be removed from any picture so that the photos look a lot more professional.
After that, in Kids Apparel Editing, you have to pay the most attention to the color of Kids Apparel. The more attractive the colors, the more beautiful the pictures. Various small things light touch up to increase the quality of the image. Clothes-photo-editing takes these things very seriously so that the quality of the photo is improved enough.

Undergarment photo editing:
Clippingpathcompanyint also provides undergarment photo editing services for its customers in its Clothes-photo-editing service. When editing pictures of undergarment clothes, they have to be made very clean and attractive. It is essential to edit these pictures attractively as different customers pay to edit them to upload their pictures online. We do background removal first on all types of undergarment photos. If a background is not attractive and tidy, the image quality can be lost. So with a suitable Background, we start our Clothes-photo-editing work.
Then if there are any stains or any necessary items on the product in the picture, we remove them so that the photo looks very fresh. These kinds of things encourage a customer to buy the products. Also, if the colors in the image are not blurry or bright, we edit the colors in the image brightly. During any Clothes-photo-editing, we attach great importance to these issues to increase the attractiveness of the photo.


What does Clippingpathcompanyint's Cloth Photo Editor do to improve clothing photos?
Clothes Photo Clipping Path:
The method by which you remove a background from any of the images is called Clipping Path. This task may seem straightforward, but it requires an experienced editor. A professional designer of Clothes Photo Editing can work perfectly with the clipping path.
Clothes Photo Editors use this method for removing any object from Clothes' Photo. It makes it easier to add a background after removing the image background.
Clippingpathcompanyint All the time, Clothes work the clipping path using the pen tool during photo editing. Our company works with Clothes Photo Clipping Path to increase the attractiveness of your fabric and make it more professional.


Clothes Photo Background Removal:
Background Removal is the process of deleting the background of a garment by placing the garment in it. It is a great way to make any costume look interesting. A customer prefers this service of Clothes Photo Editing to clean the image.
A businessman advertises his clothes online or offline. He sent us his clothing image to create these ads, and We remove the image background from his pictures so that the photos look exciting and realistic. We also work on removing the Background of various transparent objects starting from removing the Background of the cloth image.
Moreover, many times we use it in any picture because the picture's brightness is reflected in the white background. Clothes Photo Editing services enhance your business reputation through your photo background removal because we make you create such attractive images.


Clothes Photo Shadow Effects:
When you remove the Background from any image, the shadow is deleted from the image. When the shadow of the picture is deleted, the natural beauty of the picture is lost. In addition to considering the beauty of the image, it is essential to work with Photo Shadow Effects to make the image look realistic.
It is another vital part of Clothes Photo Editing. If you do not want to remove the photo's Background, you have to create shadows. Because a photographer often can't take pictures with the correct shades.
Even if there are shadow effects in the pictures, they are not very interesting, and then Clothes Photo Shadow Effects are created. Our company also gives importance to this issue while Clothes Photo editing. We make any Shadow Effects increase the attractiveness of the image so that the customers much prefer the pictures.


Clothes Photo Retouching:
The whole point of Photo Retouching is that when Clothes Photo Editors edit a cloth picture, they will remove the various stains, any unusual marks, or uneven things in it and make the images better and of better quality.
Professional editors do Clothes Photo Editing to make any photo new and better than before. We make the picture shiny by removing various unwanted spots from your image. Our job is to increase the quality of any image more than before. In any Clothes Photo Editing, we create a different shadow on the photo and make the picture more interesting.


Clothes Color Correction:
Clothes Color Correction is an excellent and essential service for any fabric pictures. Clothes Color Correction is the process of changing color from one image to another. Clothes Photo Editing Color Correction service is much more involved with the subject.
A businessman makes various advertisements for his business. They create different images for these ads so that they can show them to the buyers. Not only do buyers buy dresses based on designs, but they also choose different colors.
So if there are many colors on a design, buyers can choose clothes and buy clothes. So if the trader does the work of Clothes Color Correction through Clothes Photo Editing, the trader's cost will be reduced, and time will be saved because we make many color pictures from one picture.


 Ghost Mannequin:
Ghost Mannequin is about taking a picture of a doll after dressing it up and removing the doll part from the image. It is a tremendously helpful Clothes photo editing service for any trader.
Usually, if a person in business hires a model, he has to spend a lot more to bear the cost of that model. They have to do these things for a bit of advertising. But Ghost Mannequin is no longer an alternative medium for traders. A doll is dressed instead of a model.
Then the photographers took various pictures of the Mannequin. The images are then given to the editors of the Clothes Photo Editing Service.
The editors then cut out the dolls from these pictures and left cloth and added backgrounds to make them more attractive. Clippingpathcompanyint offers you an exciting Ghost Mannequin service that catches the attention of your customers.


Who uses Clothes Photo Editing Services?
 Clothes photo editing service is a service that more or less everyone uses. It is a modern service. This service can be crucial to anyone. However, the most used are various fabric traders who choose fabric as a product.
Clothes photo editing service plays an invaluable role in creating ads for anything online or offline. Below is a discussion about some businessmen or professionals who take the help of clothes photo editing.
Garment Dealer: For those who are constantly making and selling clothes, it is essential to create an attractive clothes catalog. Garment traders also create various records through Clothes Photo Editing to show the clothes' designs to the customers. So, different garment traders also use clothes photo editing.
Owners of eCommerce: Various businesses are now online. Any product is currently being bought and sold online. When you are thinking of selling products online or doing business online, you need to create some beautiful advertisements for the customers. For this, an e-commerce trader will need a clothes photo editing service.
Professional Photographers: Sometimes, a photographer with many years of experience can't highlight some exciting things in a picture. During this time, they took the help of clothes image editing. They use Clothes Photo Editing to make their photos more attractive and professional.
Conclusion
Usually, you can't attract customers using normal pictures or pictures of worn-out backgrounds. You need to take the help of Clothes photo editing to increase the attention of customers. If you start a business with the morale to build a successful business, you need to give more importance to Clothes photo editing. Our Clippingpathcompanyint company gives you various interesting pictures through Clothes photo editing. It will make your business grow faster and increase your customer base. Clothes photo editing best way to Adobe Photoshop.
<a href="https://www.ecobluedirectory.com/">Eco Blue Directory.com</a>